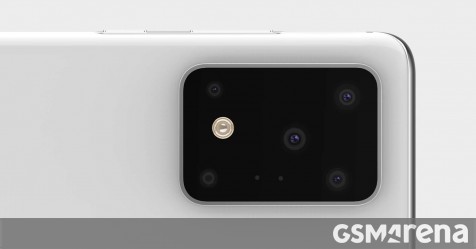 As the supposed February 18 launch of the Samsung Galaxy S11 line comes closer, the rumors and leaks are starting to paint a clearer picture of what to expect.
Ice Universe followed up yesterday's news about the telephoto cams on the S11 trio with more clarification on the 48MP periscope unit on the larger S11+ which will allegedly come with 5x optical zoom. We now have a pretty clear picture on the camera front of the S11+ which will debut with the all-new 108MP ISOCELL Bright HM1 sensor with Nonacell pixel binning tech which merges 9 pixels into one, effectively delivering the largest pixels in the industry at the 12MP resolution.
S11 + 5x optical zoom 48MP
P40Pro 10x optical zoom 16MP
Two very different approaches

— Ice universe (@UniverseIce) December 20, 2019
In addition, we also got a new live look at a prototype of the S11's display glass which shows the bezels on both the top and bottom are nearly non-existent.
The cutout for the selfie camera also seems smaller than what we've seen on the Note10 series and more in line with the recently launched Galaxy A51 and A71. According to previous rumors, the S11 will sport a 6.4-inch diagonal while the S11+ will bump it up to 6.9-inches. We're also getting a compact S11e with a 6.2-inch panel.
Galaxy S11 cover, this is the final version. The cover is not a protective film, it is a reference for the protective film. The cover is closer to the real phone design. S11's "forehead" and "chin" are very optimistic. pic.twitter.com/TFdH1oHNls

— Ice universe (@UniverseIce) December 20, 2019